Their passion for dancing is obvious!
We had the pleasure of Christopher and Jenny choreographing our wedding dance. Their passion for dancing is obvious! They were very patient with us and went the extra mile to make sure we looked perfect on our wedding day. We are so thankful to have the great memories of our first dance and all of it thanks to them!"
– Rodrigo and Anastasia Robalino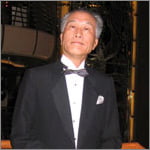 Christopher is 5 star young man and teacher…"
"Christopher started dance training in very early age and has accomplished as competitive dancer in amateur and professional level. Now as a teacher and coach, he pours his full energy and knowledge to share his students, young and old. His enthusiastic training manner is one of a kind trying to give everything he has developed in his dancing background. He has an ability to show any movements by himself or dancing with student, male and female alike. This is very important factor for dance teachers because dancing is visual art, we learn from eye in many cases. His non-stop training manner gives us -senior student – out of breath, but positively help to keep up our health and body function. He wakes up senior student's sleeping body parts, from toe to head. It's a great joy to discover our ability, almost giving up, in every lesson. In my case, after learning from fundamental dancing technique ABC to competitive dancing skill, no gimmick human body engineering, from two legends Mr. Denis Murphy ( 7 years ) and Ms Ann Harding ( 4 years ), we are learning now almost 3 years from Christopher in his version of competitive dancing logic and strategy.
Dancing is life time joy regardless of age for many occasions, social activity, traveling, physical exercise, and mostly for human well being. At combined age 143, if an opportunity will arrive, we have still a dream to compete grand senior amateur division in Japan or Europe where are highly popular in this age group dancers. According to my partner Marion's word "Christopher is 5 star young man and teacher"
– Sunny Terado
The most gracious and supportive coach a dancer could hope for…
"In retrospect it is really astonishes me to realize that under Christopher's coaching I went from my first competition in Sept 2005 to win a championship at the largest competition in Canada just 3 ½ years later. I am awed and indebted. Not only for the best dance training a woman might dream of, but also – and really more important – for the most gracious and supportive coach a dancer could hope for. Curtsies to you. And the very, very best wishes for your dance ventures and dreams."
– Elise Stanley